CRANE-FREE FUSTEQ2O CON SISTEMA DI SOLLEVAMENTO IDRAULICO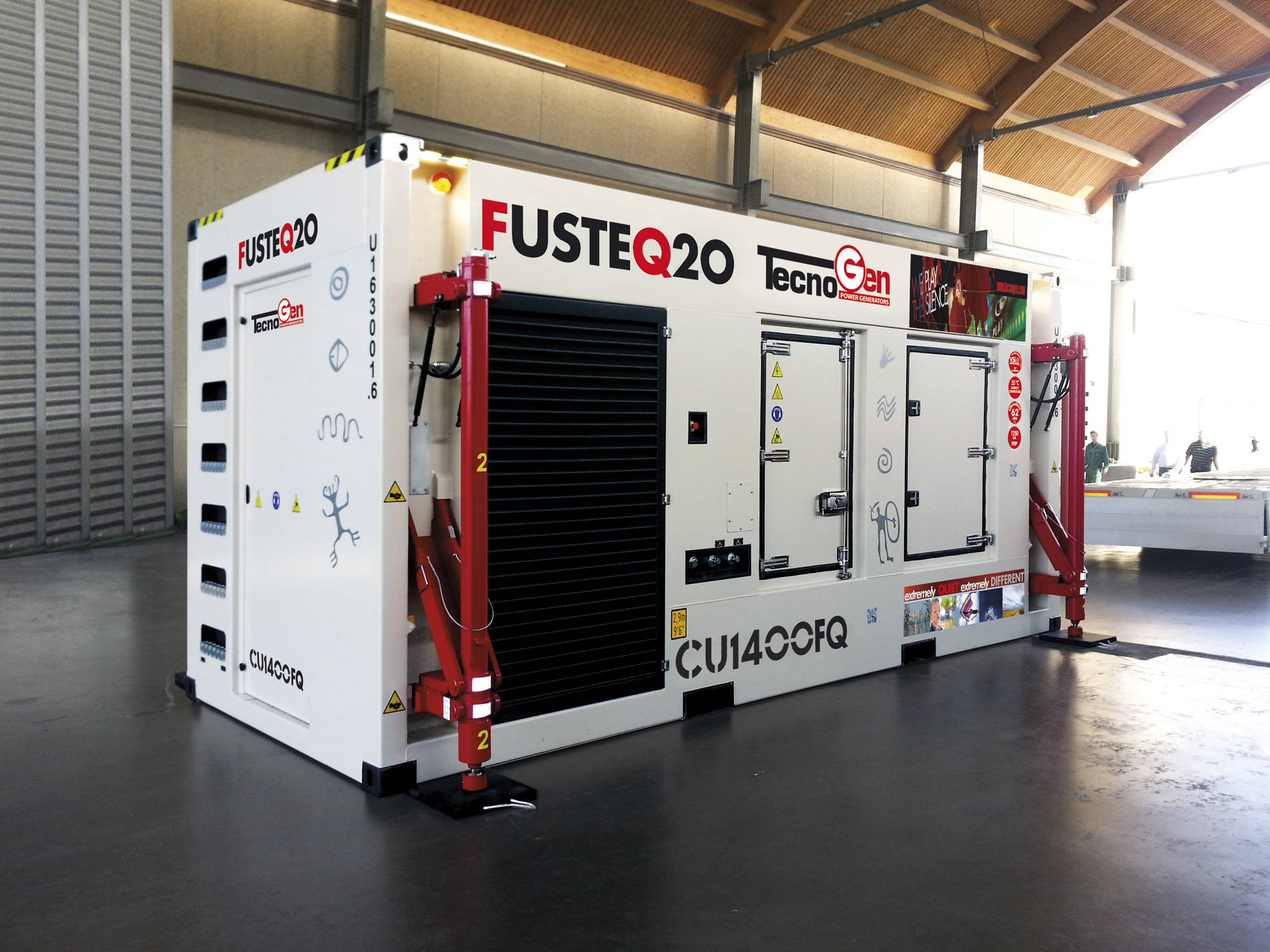 CRANE-FREE Fusteq 2O con sistema di sollevamento idraulico
All'esposizione del Bauma, tenutasi a Monaco ad aprile, TECNOGEN ha presentato un'eccezionale innovazione, un CONTAINER DA 20′ CHE PUO' ESSERE MOVIMENTATO SENZA L'AUSILIO DI UNA GRU. Grazie al suo sistema di sollevamento idraulico, il nuovo generatore di potenza da 1250 kVA PRP permette lo spostamento del container da 20′ insonorizzato senza l'aiuto della gru, con un considerevole risparmio di tempo e denaro.
Gli stabilizzatori idraulici sono posti manulamente a terra e possono essere allargati attraverso un comando remoto, fino all'altezza adatta da permettere al carrello di posizionarsi sotto al container; i piedi verranno poi abbassati e chiusi con il generatore posizionato sul rimorchio carrello.
FUSTEQ20 è una linea di generatori estremamente differente per design e performance.
Ideale per tutti i tipi di Noleggio, Settore minerario, Settore delle costruzioni, Settore industriale, Servizi d'emergenza e Protezione civile. FUSTEQ2O può anche essere usato in zone ad alta concentrazione urbana e attività, grazie al suo basso livello di rumore.
MAIN features
          Basso livello di rumore
          Consumi di carburante ridotti
          Basse emissioni di gas di scarico
          Adattabilità alle diverse condizioni climatiche e ambientali
          Attività manutentive dsitanziate nel tempo
          Aumento del ciclo di vita del generatore
          Temperatura ambiente a 55°C con rating continuo
          Doppia frequenza (50/60 Hz)
Il sistema di raffreddamento del FUSTEQ2O, grazie alle sue speciali ventole elettriche multiple con tecnologia VSi (Variable Speed Inverter) gestisce il flusso dell'aria fredda in un modo innovativo.
The cooling system of the FUSTEQ2O series consists of electric radiators characterized by a large radiating mass and multiple VARIABLE SPEED fans with INVERTER technology.
Il sistema di raffreddamento della serie FUSTEQ2O è composto da radiatori elettrici caratterizzati da una grossa massa radiante e ventole multiple a VELOCITA' VARIABILE con tecnologia a INVERTER.