COVID-19: TECNOGEN GENERATORS AT THE FIELD HOSPITAL IN PIACENZA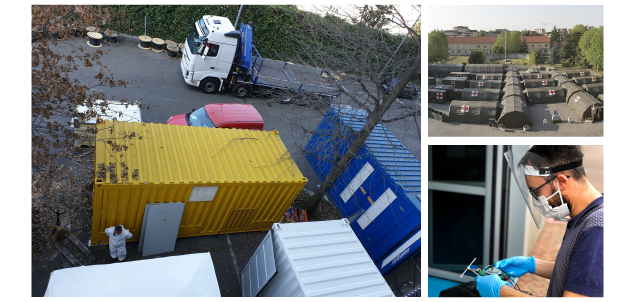 TecnoGen made its contribution in the particular health emergency period. The supply of generating sets by TecnoGen and other companies belonging to the BGG group involved hospitals and intensive care departments set up in a very short time: 1. The new hospital at the Milan Exhibition Center, where a complex and critical facility was built in less than a week, working non-stop; 2. The Hospital Camp of Piacenza: 3. The Hospital of Imperia; 4. The San Raffaele Hospital of Milan.
We have also directly set up systems with our generators in the main hospitals of Marche, Abruzzo, Molise and Puglia in Italy. Other companies of the group have made their contribution in an emergency by donating a pulmonary ventilator to the Ariano Irpino's hospital center.
Our internal Research and Development department has also contributed to the design of protective visors for healthcare purposes, putting the ingenuity and technical expertise available for the conversion of certain production activities to the benefit of healthcare workers.